Miss Sara at
Miss Elementary
awarded me The Versatile Blogger Award!
Thank you so much for the award!
Here are the seven rules to follow when receiving this award:
1. Thank the blogger who nominated you.
2. Include a link to their blog.
3. Include the award image in your post.
4. Give 7 random facts about yourself.
5. Nominate 15 other bloggers for the award. for the sake of time I'm probably going to do less!
6. When nominating, include a link to their blog.
7. Let other bloggers know they've been nominated.
My 7 Random Facts
1. My dog is named Bernice after the Miranda Lambert Song White Liar
2. I raise angus cattle and all of mine are named after I love Lucy characters. I even had one named Bobalou!
3. I absolutely do not like cooking! I will do the dishes I just hate to cook!
4. I LOVE HELLO KITTY. Yes I am 26 years old but something about her just makes me happy.
5. I am left handed and I am not crafty by any means.
6. I love ice cream I could eat it for every meal!
7. I LOVE HARRY POTTER AND TWILIGHT I went to HP World last summer :) I even have hand drawn shoes!
I'm going to nominate Haley @ Following Optimism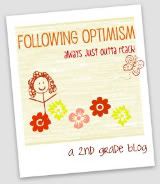 Miss T At Journey of a Substitute Teacher
Kelley at Buggy for 2nd grade
Ladies your blogs are fabulous! That is all I'm going to pick due to lack of time!
I wanted to quickly share a freebie I made that I'm going to use to post how my kids are going home. I'm going to attach a clothespin with the childs name and the bus number they ride written on it to make it easier for subs.
You can grab it by clicking on the picture below!
I hope everyone had a restful weekend!